Rita notes: choosing garden furniture
---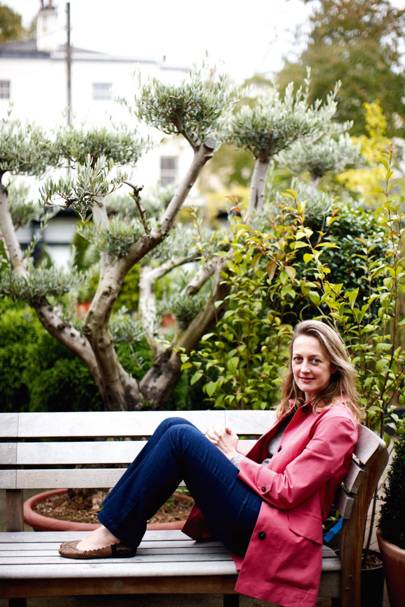 I must admit that I am not really an outdoors person, but that has never stopped me caring about how the garden looks from my sitting room. I feel that London gardens especially should be treated as extensions of the rooms that they adjoin. They can do so much to enlarge and improve the room, and quite a bit of embellishing can go on out there.
I love vintage cane and metal outdoor furniture. is good for the latter, and I recently saw a great set of cane chairs at . also has lots of garden furniture to choose from. For a slicker look, makes beautiful metal furniture by hand, which lasts a lifetime. I think Houghton Hall has just about the perfect English country house sunlounger, or, for something completely different, Danish company Rice has a cane lounge chair in a variety of colours.
I tend to choose weatherproof fabrics for the main seat pads of the furniture and then have cushions in regular fabrics. I love how the colours fade in the sunlight and, if you are happy to take them inside when it rains, they're no problem. Cushions that are filled with Dacron foam and covered in polyester are not that appealing; it's nicer to have a soft, proper cushion behind you.
I like to use foliage and floral prints outside. One of my favourites is 's 'Chestnut Leaves' and I have used 's 'Fig Leaf' a lot. If you are not convinced by the idea of using regular linen, Peter Dunham prints 'Fig Leaf' on Teflon-treated polyester, and will print any of its designs on Sunbrella. does good exterior fabrics - I like 'Stella Outdoor' - as does , which has an excellent stripe called 'OD Stripe'. 'Fresh Canvas' from Great Outdoors by is a good plain, which comes in dozens of colours. And lastly, , available through Robert Spurway, has two fabrics I like a lot: 'Very Terry', a towelling, looks smart on sunbeds, while its 'Rough 'N Rowdy' linen is good for draping.
Lighting the garden at night is important, because it will seemingly double or treble the size of the room you are sitting in. It's much prettier to see twinkling lights outside rather than darkness. I have uplights from in the beds and I am about to festoon the place in strung bulbs from .
Planters make all the difference; they add dimension to a space and, of course, can be moved. Old terracotta is hard to beat, but I also love , which makes beautiful glazed pots. Recently I discovered , which makes lovely copper pots in a variety of finishes. The Sylvan collection, with its horizontal rib, caught my eye because of its simplicity, and the pieces also come in smart brass and zinc versions.
Rita's Picks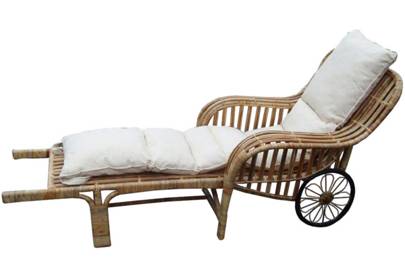 Lounger
Wicked sun lounger with cushion, 84 x 190 x 76cm, £1110, from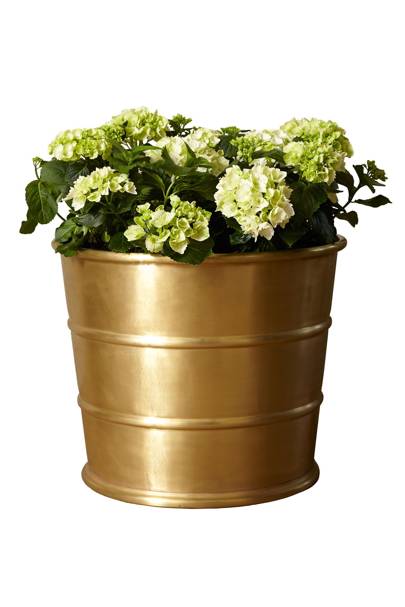 Planter
Lacquered and waxed brass 'Sylvan Small Two Ribbed Planter', 52 x 62cm diameter, £792, from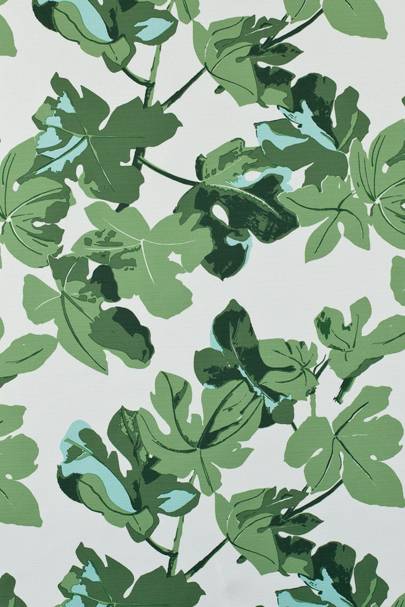 Fabric
'Fig Leaf Outdoor' (orginal on white), polyester, £230 a metre, from