Architectural designer Charles Rutherfoord's elegant London home
---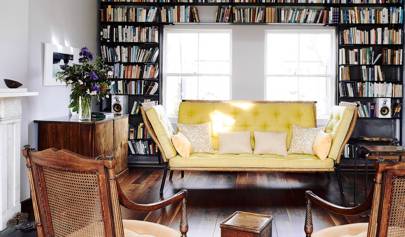 Charles Rutherfoord serves coffee and cake from a silver tray in the drawing room of his house on one of south London's loveliest streets. It is an elegant room and Charles is an elegant man. Roughly U-shape, this open-plan space on the top floor works its way around a central staircase. As with the rest of the house that he shares with his partner Rupert Tyler, who works in finance, it has been designed and furnished with great care.
There are handsome pieces of eighteenth-century English furniture here - some collected, some inherited. A sofa designed by Charles is a modern - but not too modern - take on the classic Knole style. The room itself, however, reflects more current architectural ideas surrounding the play of light and flow of space. The ceiling has been opened up to create a mezzanine level reached by ladder. Instead of architectural mouldings, there are shadow gaps at the top of walls painted a shade of luminous blue-grey.
Charles read architecture at Cambridge, where he enjoyed the mixture of architectural history and the guidance of his tutor David Wyn Roberts, a confirmed modernist. Perhaps that is where the pleasing tension between the classical and contemporary that is evident in much of Charles's work first took root. He creates rooms for living in rather than for showing off: 'I like it that people may notice different things in the design after a while; they see the details.' His approach is rigorous: 'It's not as easy as it looks.'
Despite being a purist of sorts, Charles is not afraid to add elements that are purely fun. Walking up the front path, I notice the window frames have all been painted gold and glow in the morning sunlight. Once in the hall, my eye is drawn to a coral pink carpet on the stairs. Charles says it took four attempts at dyeing to achieve the correct shade. To the right of the stairs is his office, where he works with a small team. Here, popping out against the backdrop of a dark wooden bookcase is a Regency rosewood armchair upholstered in wool the colour of tomato soup, which was once David Hicks's desk chair in his study at Britwell Salome. The house boasts not one, but two outdoor showers.
Built in the 1870s, this substantial house - detached and double-fronted - suffered the common indignity of being carved up into six flats. Over the past 35 years, however, it has undergone a gradual reunification, which began shortly after Charles bought a flat on the first floor. 'There was absolutely no master plan to buy the rest of the house, or any more of it,' he insists. But bit by bit, that is just what he and Rupert did.
A previous permutation of their living quarters was featured in House & Garden in July 2004, after they had reintegrated the first and second floors. Last year, Charles and Rupert bought the raised ground floor - the final piece of the puzzle. While one side of this floor is used as Charles's office, the other is now a dining room at the front and a kitchen at the back. The rich, tobacco-coloured walls and formal arrangement of furniture and artwork in the dining room sits in stark contrast to the minimalist kitchen and its wall of sliding glass doors.
These doors lead to a terrace overlooking the garden, which is something that has kept Charles and Rupert so attached to the house over the years. It really is magnificent, and in terms of its size and its style, so unusual for a London garden. Charles's eyes light up when he talks about it - even details such as the new shelving in the greenhouse, where seedlings, succulents and subtropicals grow. Upstairs, the main bathroom also has its own terrace that makes the most of this view.
For the past seven years, he and Rupert have participated in the NGS Open Gardens scheme (of which Rupert is a trustee), in which hundreds of visitors come to see thousands of tulips standing tall among irises and tree peonies. Charles refers to himself as a plantsman, preferring the soft structure created through planting to the strict lines created through hard landscaping. It is interesting that a designer whose interiors have such a strong geometry takes such a different approach to his garden designs. But it is another contrast that works so well.
'I am keen for clients to understand the spirit of what I do,' he says. 'There is a stillness to the work, which is an important part of it.' He says it is difficult to capture this in photographs, which is why he often invites clients to visit. And although the Open Gardens programme is strictly outdoors, I think those who do visit might still get a sense of the designer and his work.
Charles Rutherfoord:
Dining Room - Charles Rutherfoord London House

In the dining room on the ground floor, the display of engravings of the Antilles on either side of the chimneypiece creates symmetry; by Lieutenant Caddy, they were commissioned by Rupert's forebear George Tyler, Governor of St Vincent.

Like this? Then you'll love

Dining Room to Kitchen - Charles Rutherfoord London House

To the right is an opening to the kitchen, which overlooks the garden.

Like this? Then you'll love

Dining Storage - Charles Rutherfoord London House

Between the dining room and kitchen is discreet built-in storage.

Like this? Then you'll love

Kitchen - Charles Rutherfoord London House

Charles kept the kitchen's design minimal, with white lacquered units and Moroccan limestone worktops.

Like this? Then you'll love

Living Room - Charles Rutherfoord London House

The livng room is decorated in a simple elegant style with white walls and wooden floors.

Like this? Then you'll love

Ladder - Charles Rutherfoord London House

A ladder adds interest to a corner of the living room.

Like this? Then you'll love

Living Room Sofa - Charles Rutherfoord London House

A yellow sofa adds a pop of colour, placed in front of the bookcase in the living room.

Like this? Then you'll love

Office - Charles Rutherfoord London House

Charles' office is accessed from the entrance hall.

Like this? Then you'll love

Office Bookcase - Charles Rutherfoord London House

The office has a bookcase which provides ample storage. A red armchair creates a striking contrast with the rest of the scheme.

Like this? Then you'll love

Office Window - Charles Rutherfoord London House

The office overlooks the garden, providing ample inspiration and serenity.

Like this? Then you'll love

Hallway - Charles Rutherfoord London House

Here, the coral carpet on the stairs was made to order from ; the upstairs landing has a small desk area.

Like this? Then you'll love

Dressing Room Bookcase - Charles Rutherfoord London House

The dressing room also has a wooden bookcase and drawer storage.

Like this? Then you'll love